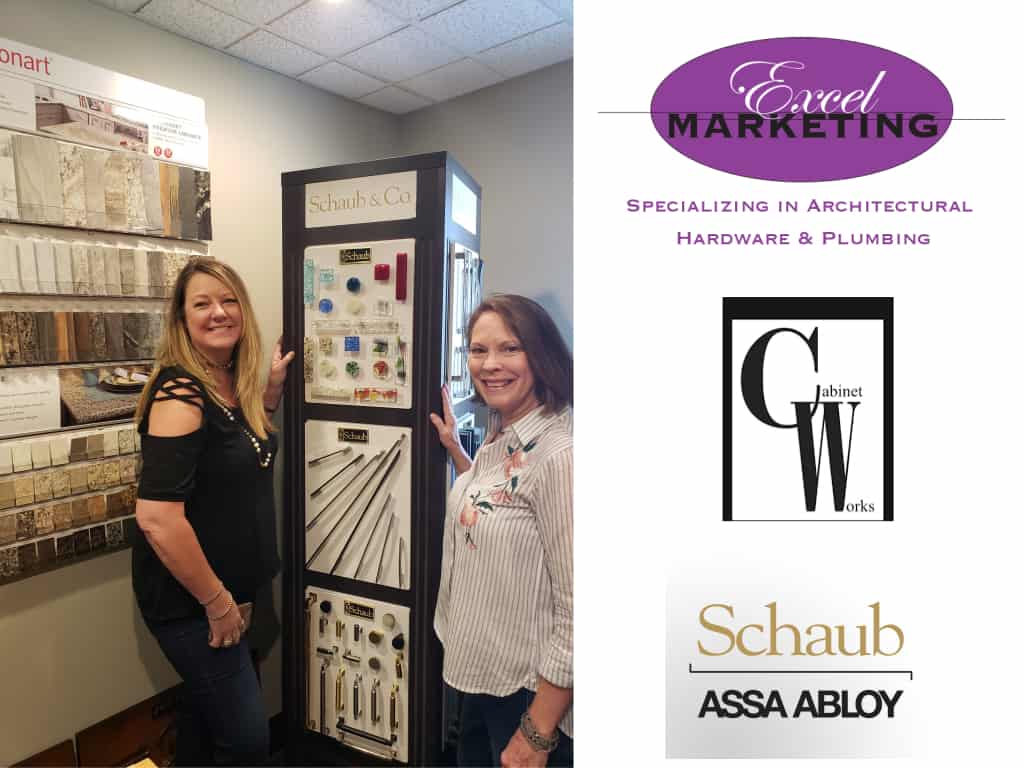 Part of the responsibility of being an effective Representative for Schaub & Company is making sure that display boards are kept current with the latest products. Here, Darla Sather from Excel Marketing (right) is working with Cabinet Works Designer, Denise Audet (left) to choose the latest display products.
Darla Sather works with architects, designers, and retail sales teams such as Cabinet Works. She represents several high-end product lines for Excel Marketing. She covers Montana and Northern Idaho, and Eastern Washington.
Denise Audet is the in-house interior designer for Cabinet Works. She helps clients create their dream home.
About Cabinet Works
Cabinet Works provides custom bathroom and kitchen cabinets, carpeting, closet design, granite countertops, kitchen appliances, window blinds and treatments. They are located in Billings, Hardin, and Laurel, Montana. They specialize in total and complete customer service, from the design phase to absolute completion. The value you'll receive when purchasing their products and services is second to none in the Montana area. Their vendor partners, office staff, and installation personnel are the finest in their fields to ensure your kitchen or bath design experience is absolute bliss.
They carry nearly a dozen brand name appliance lines as well as feature a state-of-the-art flooring showroom, not to mention their in-house interior designer whose service is complimentary with purchase.
About Schaub & Company
Schaub & Company cabinet hardware is created with passion and expert craftsmanship. Every piece is rich in design and details that will make your home truly stand apart. Collections are unlike anything else on the market. Explore our full catalog of cabinet knobs and cabinet pulls to find the touch of decadence you deserve. You will find decorative cabinet hardware in every style, from sleek contemporary to ornate luxury. View by style, collection, or finish to find exactly the right product for you.