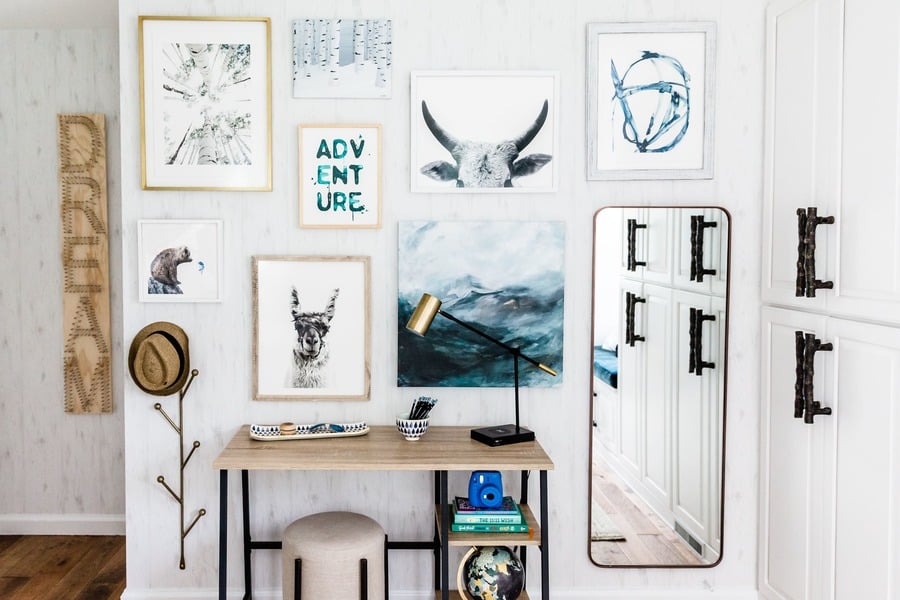 So much creativity goes into kids' room design. This One Room Challenge Finalist, House of Funk created a fun, exuberant, and youthful Hygge Bedroom.
Twice a year, for the last 14 years, Emtek and Schaub sponsor an official One Room Challenge. Competing designers pick one room and complete a redesign using Emtek and Schaub products. The designers document the journey, sharing before and after photos and blog about the hardware selection and integration. When complete, applicants submit their stories and photos for a chance to win. See the finalist House of Funk's Kid's Bedroom transformation and notice the Twig pulls Egg Knobs, & Door Knocker from Emtek.
---
Ready, Set, Hygge: Step into our kids' room hideaway and stay awhile
So much creativity goes into kids' room design: It's fun, exuberant, and youthful, but also important to create a design that the child can grow into.
Designing a hygge hideaway for my daughter, Tessa, as part of The One Room Challenge has been a great adventure, and I am thrilled to finally share the big reveal!
I love a good design challenge, and these last six weeks definitely pushed me. Transforming a space from top to bottom in just over a month is no joke. But let me tell you, it can be done (a lot of strong coffee and good wine help)…don't tell my team, but I'm already dreaming and scheming about the next one…
My daughter, Tessa, is the definition of pure joy: Always smiling and giggling, bursting with creativity (she is an artist, guitar player, and lover of all sports), and full of zest and enthusiasm for everyday adventures.
The recap of our journey to date: week one was all about the inspiration, week two brought the vision to life, week three was getting the structure right, week four, the in-progress stage, and week five was all about the installation.
Finally, it all came together.  See the rest including the before and after photos on the House of Funk website.