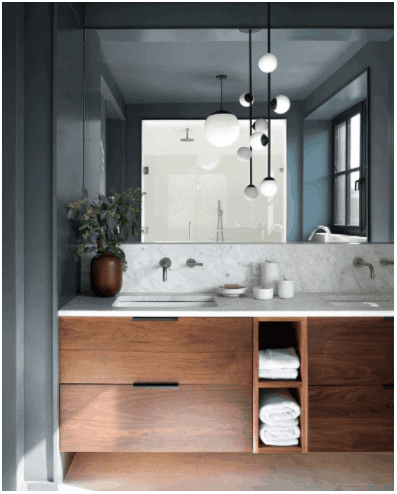 As the length of time Americans have been confined to their homes has grown during the coronavirus (COVID-19) pandemic, the appetite for home improvements has increased. The pandemic has shifted the way a home functions and has provided homeowners ample time to perform improvement tasks that may otherwise have been put off. According to survey data from Porch, three-quarters of U.S. homeowners carried out at least one home improvement project since the start of the pandemic and around 80% plan to complete at least one project in the next 12 months. The list below includes the highest occurring projects done nationwide. Where do you fall in the study?
Most Common Exterior Projects
Garden
Patio
Outdoor Structure
Landscaping/Lawns
Most Common Interior Projects
Painting
New Flooring
Renovating Bathrooms
Upgrading Kitchens
Adding New Lights
About the Featured Image
The featured image is called Loft 2.0. The Photo Author: @haris.kenjar on Instagram; Designer: @mowerymarsharchitects on Instagram. The remodeled bathroom features products from Watermark Designs, a leading manufacturer of decorative plumbing fixtures, bathroom accessories, grab bars, shower drains, and elegant hardware for the luxury commercial and residential markets.
See more design inspirations featuring Watermark Designs
About Excel Marketing
Excel Marketing promotes luxury product lines such as Watermark. We represent product lines and work with designers, architects, homeowners and shop owners to bring the products to market. If you would like to learn more, reach out to Excel Marketing today. Contact us.
Source:
Vincent Salandro. "Survey: Time at Home Due to COVID-19 Allows Homeowners to Complete Home Improvement Projects." Remodeling.hw.net, 24 July 2020, www.remodeling.hw.net/business/survey-time-at-home-due-to-covid-19-allows-homeowners-to-complete-home-improvement-projects_o.