Interior design trends are always changing and sometimes it's hard to keep up. Here, respected interior designers offer suggestions to simply refresh the look of yesterday and help put a creative flair to your bathroom designs.
Today's Popular Bathroom Designs
Before this recent shift in interior design trends, contemporary, light, or all-white interiors were on the top of everyone's must-do list. But now, it seems everyone craves a pop of color to add some extra drama, dimension, or warmth.
Another big-ticket bathroom item this year is stand-alone tubs. They provide the relaxing spa-like ambiance that people want their bathrooms to have. Imagine coming home after a long day at work, a lovely soak in the tub is bound to make you feel Zen.
Designer Suggestions to Add Pops of Color
If you are craving color and want to try something new, choose a solid color and/or textured finish for the walls. A textured wall covering in a solid color can do wonders for adding depth and visual interest to a space.
"Colors are perceived differently by different people, so it's all about selecting colors that invoke the feeling and mood we are trying to create in their personal space,"

Alisha Gwen, Owner of Alisha Gwen Interior Design
Using handcrafted artisan tiles in your design is another suggestion interior designers are making to add something extra to your bathroom.
"We used them in an Aspinwall bathroom because it creates an uneven surface, texture and color variation from piece to piece, so no two tiles are the same, which evokes a very unique look,"

Alisha Gwen, Owner of Alisha Gwen Interior Design
Or, go for it and add a colorful or custom stand-alone tub. This blue standalone tub from Americh comes to mind.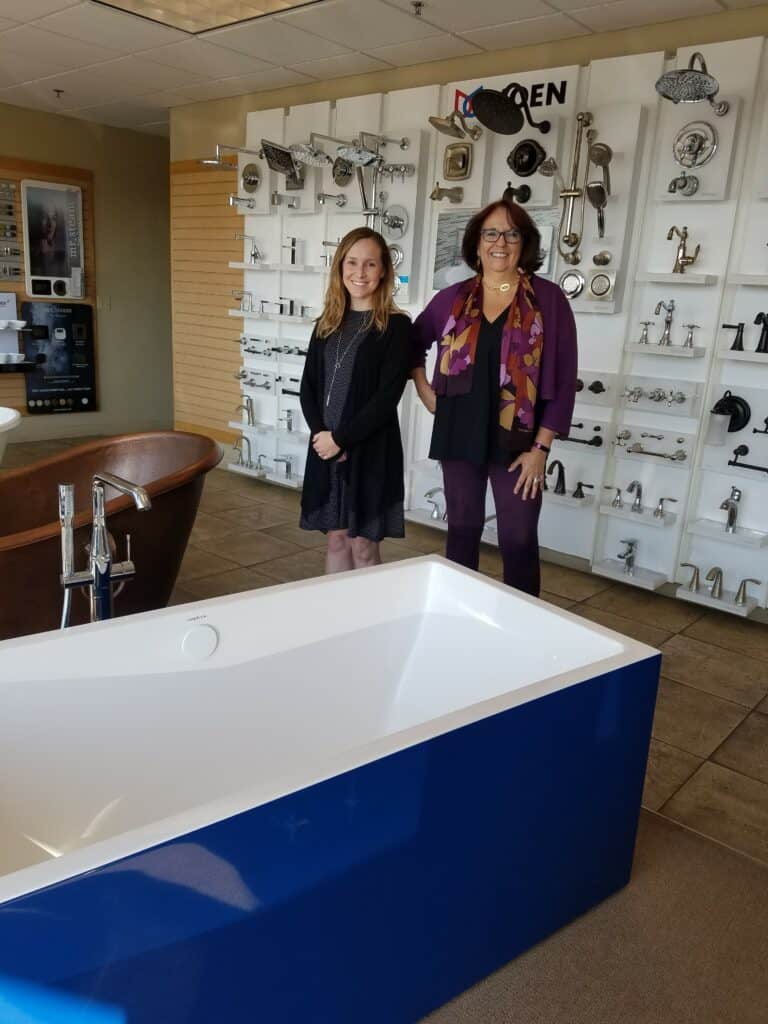 Looking for a new, colorful stand-alone tub? Americh manufactures over 130 bathtub designs and almost 40 different acrylic shower base models. By far one of the largest collections in the industry. Beyond that, you are invited to customize your own design.
Still interested? Read: Americh Wins Innovative Product Award From Better Homes & Gardens and Americh Air & Soaking Bathtubs Fit Seamlessly Into Any Bathroom