We are proud to announce that Emtek's Ace Knob product made a big splash this year at the annual Kitchen & Bath Industry Show (KBIS). KBIS is North America's largest trade show dedicated to all aspects of kitchen and bath design. KBIS, in conjunction with the National Kitchen & Bath Association (NKBA), is an inspiring, interactive platform that showcases the latest industry products, trends, and technologies from hundreds of exhibitors. (source)
Each year, KBIS holds a "Best Of the Year" contest where various products are selected for their innovative properties and designs. Emtek's Ace Knob was selected as a Best of 2022 finalist. Emtek is well known for its custom-designed hardware that is configurable across multiple product lines. They offer customers several finish options giving designers ultimate control over the look and feel of door hardware.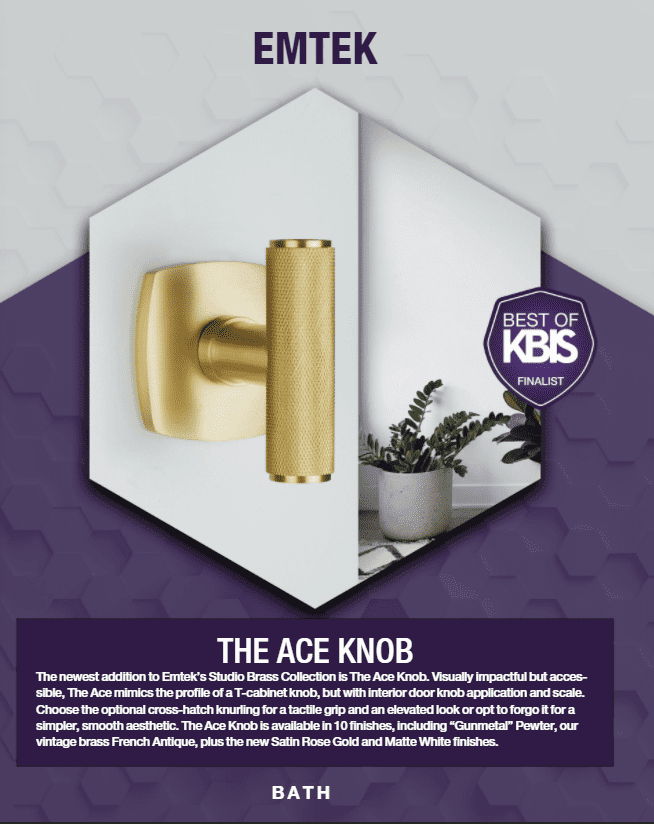 Studio Brass | Ace Knob Design Features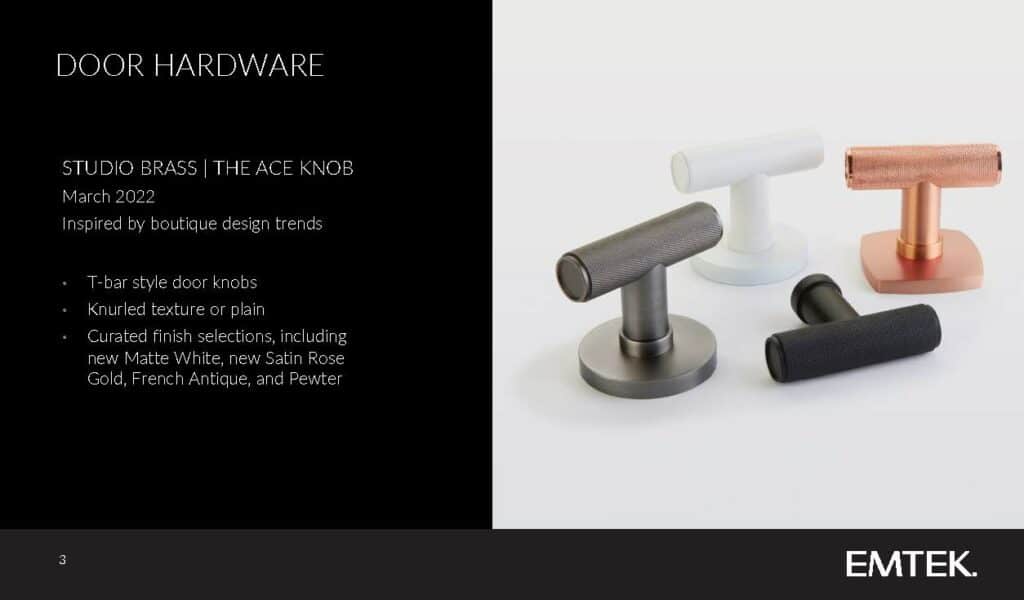 The Studio Brass | Ace Knob design is inspired by boutique interior design trends. It features:
T-bar Style Door Knobs
Knurled Texture Options
Plain Option
Curated Finish Selections Including New Matte White, New Satin Rose Gold, French Antique, and Pewter
Visit KBIS to see the finalists in this year's feature. Or see their curated flipbook
Learn more about different Emtek products on their website.
For more posts like this, visit Emtek Products to Make Your Home Your Own, and We're In Love!! New from EMTEK SELECT – White Marble and Straight Knurled Leversets.

Emtek is dedicated to helping bring your personal style to life. Door hardware is more than a way to open, close, and secure a space. To Emtek, it is an integral part of a room's design theme. Each order is custom assembled in their Southern California facility. There is no predetermined combination of knobs, levers, rosettes, and finishes; they let you mix and match according to your own taste. Door hardware should make a statement, your statement.