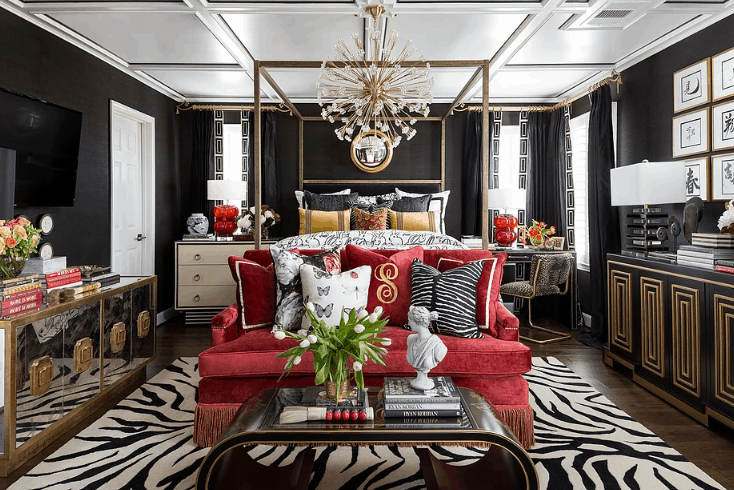 Check out Emtek and Schaub's One Room Challenge Finalist, Veronica Solomon for her stellar bedroom design.
Twice a year, for the last 14 years, Emtek and Schaub sponsor an official One Room Challenge. Competing designers pick one room and complete a redesign using Emtek and Schaub products. The designers document the journey, sharing before and after photos and blog about the hardware selection and integration. When complete, applicants submit their stories and photos for a chance to win.
---
One Room Challenge Spring 2019 – Week 6 – It's REVEAL Day!
Updated: May 16
Oh wow! This season has been quite the challenge! After doing the ORC six times before, I can honestly say that this one pushed me to the limit. The fact that I was chosen as one of the 20 featured designers by Better Homes And Gardens, our media partner, added a tiny bit more pressure, but it was such an honor, and I feel so blessed. It is always fun to see just how much can be accomplished in such a short period.
One Room Challenge. Master Bedroom Makeover. Designed By Veronica Solomon Casa Vilora Interiors. Better Homes And Gardens Featured Designer. Photography By Colleen Scott
The six weeks went by so fast, and yet so slow. Haha. I was really shocked that I was actually ready for photography last week, but not without some serious drama towards the end. More on that in future posts, so stay tuned. This will be a long post (sorry), but tons of beautiful after shots to make up for it :-).
Thanks to my amazing Photographer Colleen Scott, who always showcases my work beautifully.
Before the Design Challenge
Let's go back and see where we started………
After the Design Challenge – Moody Master Bedroom
Vignette Featuring Black Hair On Hide Upholstered Desk From The Veronica Solomon Style Collection. Made By Creative Style Furniture. Photographed By Colleen Scott
Official Sponsors
My moody master bedroom makeover would not be possible without our group of official sponsors. They've been nothing short of amazing, supportive and responsive to what I needed to bring this room together.
And I am so thankful to my vendor partners who also stepped in to lend their support and expertise (Helser Brothers, Kravet, S&L Designs, Kelly Moore Paints, Laura Rathe Fine Arts, Creative Style Furniture, Drapery ETC, Woodpecker Carpentry, Tom Navarre, Francisco Paizano, Keith Coen with America's Fine Art Installers)
Moody Master Bedroom Design Inspiration
The Moody Master Bedroom is not just about the mood I was trying to create in the space. It also represents my many moods – the things that I love, the things that I am currently into, the things that I find valuable, the things that I enjoy, the things that are sentimental. It is my bedroom, and I wanted it to be all about me; nothing wrong with that, right? My photographer walked in and her exact words were "it's so Veronica" Mission accomplished!
Bedroom Designed By Veronica Solomon Casa Vilora Interiors For The One Room Challenge. Photographed By Colleen Scott
The room also celebrates my maximalist sensibility and my love for the "more is more" philosophy with restraint and sophistication. The late Tony Duquette and Miles Redd are two of my biggest design heroes, and they do more is more so well.
That term can often be seen in such a negative light, but there is nothing better than living in a space that tells your story, and the more you collect, the more you want to display them beautifully for your own enjoyment.
Nothing Matches but it Goes
I wanted an eclectic mix, where nothing matched, but they just go together. I find that when I decorate with the things I love, they always come together, because they always have things in common. I don't overthink my designs, I just "feel" and that guides my selections. Layering patterns and color is very instinctive for me – it comes very naturally, and it really allows me to go bold with my designs.
The custom bed that I designed and had made by S&L Designs takes center stage. I have always wanted a canopy bed, but had to be super careful with 8′ ceilings. It can easily overpower the room. I was able to customize the size, the finish, the fabric; really, every detail. You will notice that the mattress sits higher than normal. I personally love a high mattress, and therefore customized it to suit my needs
Moody Master Bedroom Designed By Veronica Solomon | Casa Vilora Interiors For The One Room Challenge. Photography By Colleen Scott
I always seek to anchor my crazy mix of patterns and colors with classic details and something architecturally strong. The ceiling was a perfect way to do that. Having 8′ ceilings can be restricting to anything too grand, but that didn't stop me from going for it with the paneling done by my carpenter Getze Vazquez of Woodpecker Carpentry.
I was able to find the perfect moldings from Metrie's Option M. With this collection Metrie has taken the most sought-after home décor styles such as boho chic, modern farmhouse, vintage industrial, new traditional, and, together with designers, curated interior molding and door combinations that create high visual impact in any space. You can see just how much the moldings I chose elevated the master bedroom for a luxurious look.
I was so excited when my contacts over at Kelly Moore Paints said yes about partnering with me for the One Room Challenge. They are a company that I have long admired. They were so generous in providing all the prep materials, primer and paints for the ceiling and my adjoining bathroom coming soon. I chose KMW57 Cloud White for the main ceiling color, and the black accent in KM4883 Black Cat. My painter Francisco Paizano and his team really did a great job
I have done many black rooms throughout my career, but this time I wanted to add some beautiful visual texture and depth. Pacific Designs provided all the wallpaper for my enormous master bedroom. I ended up choosing pattern PDSZ4034 from the Shenzen collection. Their selections were so amazing, and this one has the right amount of texture and sheen that creates the perfect backdrop for the layers of the room. My installer Tom Navarre did a great job applying the paper
Moody Master Bedroom Designed By Veronica Solomon For The One Room Challenge. Photographed By Colleen Scott
To give the room even more depth and enhance the moody vibe, I decided to go with black silk draperies with the beautiful trim detail. The sheen of the silk against the texture of the wallpaper is so fabulous in the room. Fabricut, who is one of my top vendors for my design projects provided the beautiful silk fabric (Douppioni Silk Color 66), and the gorgeous trim from their Stroheim line (Ingot Color 25). Fabricut also provided the metallic trim on the gold bed pillows in the front (Metalink Color 114) and the gold velvet fabric pillow and coverlet fabric (Vienna Velvet Color 13). My workroom of over 12 years, Drapery ETC did an amazing job creating these custom pieces for me.
The beautiful drapery hardware was provided by one of my favorite vendors, Helser Brothers. I only had to reach out to Jay, one of the owners and tell him what I was up to, and he was so generous in providing all the hardware in record time. The custom gold finish provides a nice contrast against the grasscloth wallpaper, and the beautiful pagoda style finials tie in perfectly with the Chinoiserie influences in the room. If you know me, you know I love Chinoiserie. I went beefy with the drapery hardware because this room is all about more is more.
The gorgeous ceiling light fixture is from Hudson Valley. It is called Dunkirk. I chose it because it totally reminds me of fireworks. I went a bit larger because I knew that the room would demand a substantial chandelier. The faceted crystal spheres refract the light and cast some beautiful shadows in the room.
Emtek Door Hardware And adorne Collection by LeGrand Dimmer Switch
The beautiful, and dare I say sexy dimmer switch from adorne Collection by LeGrand helps to set the mood with the lighting. LeGrand also provided all the USB and regular outlets and switches throughout the bedroom and closet, as well as my master bathroom. I chose the magnesium finish to tie in with the wallpaper. They are available in several options and finishes. I will be using the adorne Collection by LeGrand on all my projects going forward
Door Hardware By Emtek. One Room Challenge Master Bedroom Makeover By Veronica Solomon. Photography By Colleen Scott
Even my doors got an upgrade. Emtek provided the gorgeous door levers and the pull on the custom desk. I chose the knurled L- square lever with a square rosette in flat black and satin brass on the knurled handle. There are several options to create your own custom door hardware. You have to check them out. These are some of the small but impactful details that will take your space to luxury status. Read the rest on Veronica's Blog….