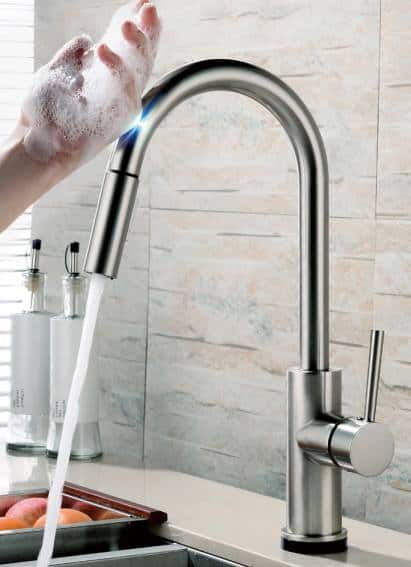 We are always thrilled when the products we represent are featured in magazines. Recently, Architect Magazine featured the Lenova TKO hands-free faucet in their recent feature "10 New Products to Spice up the Kitchen". The product was highlighted for its modern functionality and beautiful aesthetic.
For centuries, kitchens have had a functional purpose but today's consumers expect more. Homeowners want a place to cook, entertain and clean with ease. The TKO faucet from Lenova uses updated technology to help modern-day cooks accomplish it all. See the excerpt below or check out the full feature here.
Lenova
The TKO Touch Kitchen Faucet, Lenova's newest line of hands-free faucets, allows the user to turn the water flow on and off with just a light touch on the faucet handle. The faucets are made from no-lead brass, and coated with a PVD finish in Brushed Nickel or Polished Chrome, and available in a variety of contemporary designs. The hardware includes a pull-down spray and side lever handle. Additional features include an automatic shutoff and a LED light bar that indicates the temperature of the faucet's water flow. According to the manufacturer, this technology promotes improved kitchen sanitation by reducing the potential spread of bacteria. See more at lenovasinks.com
Source: SYMONE GARVETT, MARY SALMONSEN. "10 New Products to Spice Up the Kitchen." Architectmagazine.com, 2019, https://www.architectmagazine.com/technology/products/10-new-products-to-spice-up-the-kitchen.