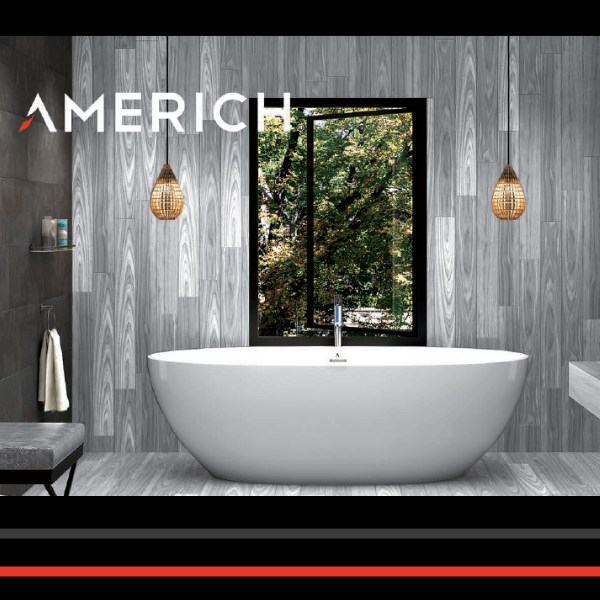 Americh is proud to announce the addition of two commodity products available immediately.
Freestanding Drop – In Drain Kit
Designed to make installation on freestanding tubs quick and easy. These drain kits may be purchased individually at your standard discount.  Special net prices are available on bulk packs of 12 or 24 units.
Product Features
• NO ACCESS PANEL REQUIRED.
• FOR All FREESTANDING BATHTUB INSTALLATIONS.
• FOR USE WHEREVER ACCESS IS AN ISSUE
• ALLOWS FOR AN INSTALLATION AS CLOSE TO THE WALL AS POSSIBLE.
• PLATE CAN BE UNINSTALLED IF ADJUSTMENTS ARE NEEDED.
• REUSABLE CAP FOR MULTIPLE PRESSURE TESTS IF REQUIRED
• INSTALLATION FOR 1 ½" OR 2″ DRAINS
Part Number Shown: M-141068
PVC Waste & Overflow Kit
This inexpensive waste and overflow kit is for builder grade installations.  The kit is sold in 12-pack quantities only at a special net price of and is available in four finishes (PC, PN, SN, and White).  There is limited availability on this kit so first come, first serve.
Product Features
• 1 ½" SCHEDULE 40 PVC PARTS
• EASY INSTALLATION
• SOLID BRASS PLATED TRIM
• STANDARD FINISHES IN POLISHED CHROME, SATIN NICKEL, POLISHED NICKEL, AND WHITE
• 12 UNITS TO A CARTON
• TRIM FINISHES CAN BE MIXED
Americh uses the finest materials available to ensure durability and ease of care. Handcrafted in the USA.
For full details on the new commodity products, reach out to Excel Marketing. Excel Marketing represents high-end products to dealers, interior designers, builders, and homeowners.