Mountain Living Magazine just featured an amazing Jackson home transformation that began with the quest to find a new lamp. The home renovation allowed a tired rental to become a regal mountain retreat. Here, the talented interior designer, Rush Jenkins takes you through the design process, implementation of the project (with photos of course), and shares his nearest and dearest renovation rules. From dimmable lighting to neutral pallets and color splashes, this is one design inspiration article you won't want to miss. See the original post in Mountain Living.
---
A Jackson Home Transformed Into a Regal Retreat
A talented designer assembles a dream team to take a Wyoming investment property from tired rental to refreshed getaway by Laura Kostelny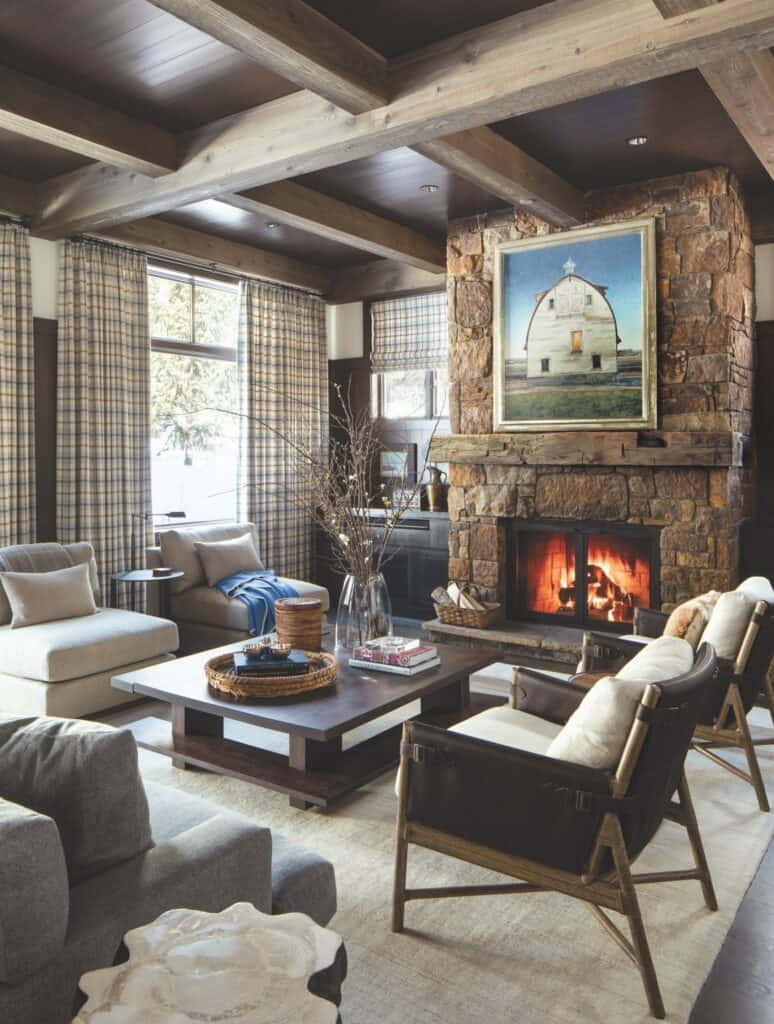 The great room strikes the perfect balance of rugged sophistication thanks to the stone fireplace, reclaimed wood mantel, abundance of airy fabrics, leather- strapped chairs from Maguire and a custom wood coffee table. | Photography by Tuck Fauntleroy
Sometimes the hunt for the perfect lamp only illuminates the fact that every single thing in a home must go. That's exactly what happened when a couple from the Chicago area popped into a Jackson, Wyoming, showroom in search of an accessory or two that could help refresh their early 2000s-era vacation home.
"That's absolutely how it started. They came in here looking for lighting, and all of a sudden we had a complete remodel on our hands," says interior designer Rush Jenkins. "What could have been a $500 purchase certainly turned into a bit more than that!"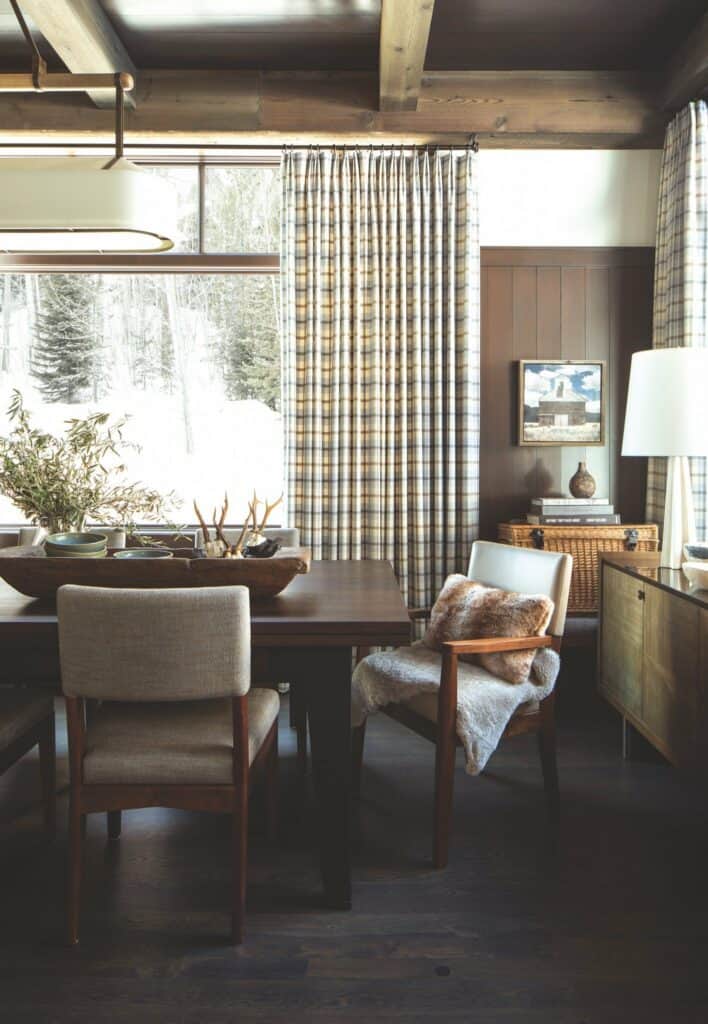 Furniture, fabrics and artwork complement the gorgeous views just beyond the dining room—including drapes in a Scottish-sourced cashmere plaid. Pre-renovation, unattractive yellow pine paneling wrapped the space. Instead of giving it the deep six, the designer glazed it in a deep chocolate brown. "There's a charm to it now that's inviting," says Jenkins.
The couple wasn't exactly rolling the dice with a random lamp proprietor, though. Jenkins is the CEO and co-founder with COO Klaus Baer of Jackson-based firm WRJ Design, and he also just so happens to be a very dear friend. So they were confident in his abilities to transform their not-so-special townhome into a beautiful getaway fit for generations to come. Still, it wasn't going to be easy.
"The house had all the original furniture from when they purchased it, which was fine, as they primarily used it as a rental for years," explains Jenkins. "But now they were ready to update the furnishings, along with all the dated finishes and plumbing."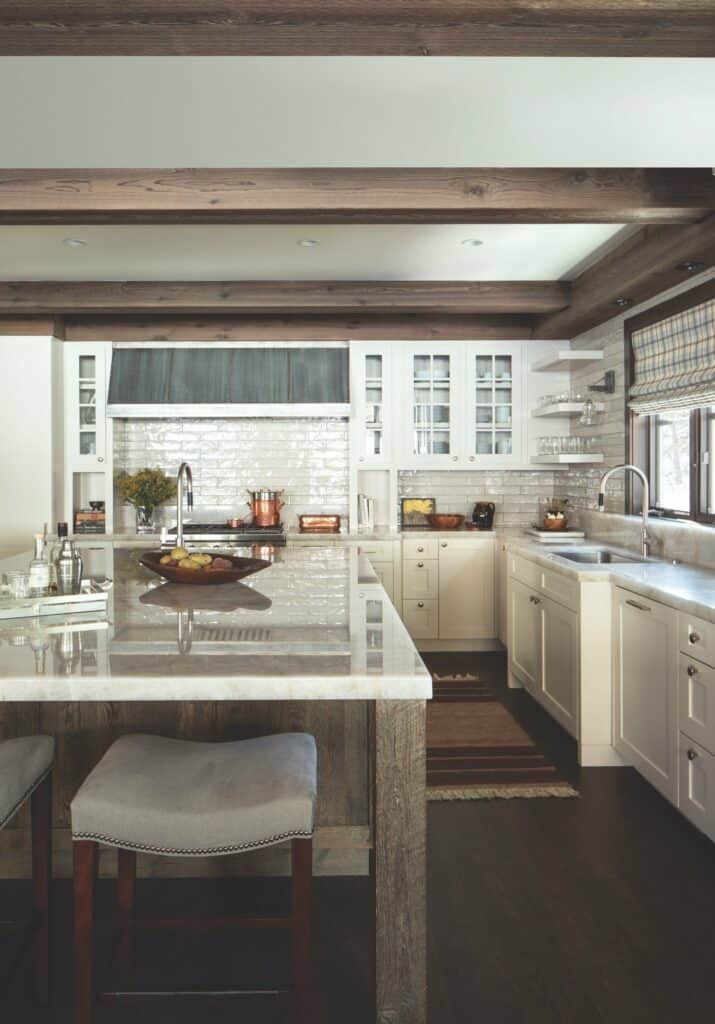 Because the owners wanted a lighter, brighter kitchen, the team delivered with crisp white Shaker-style cabinets and reflective glazed tile. The large island (10 feet by 5 feet) is topped with equally reflective polished Taj Mahal Quartzite. "With all the surfaces and waterfall shelves, different areas almost glow," says Schreibeis Smith.
The owners also wanted to totally reconfigure the 4,200-square-foot space, which would require moving walls, shifting rooms and carving out brand-new spaces, so Jenkins put together a team that included architect Veronica Schreibeis Smith of Vera Iconica Architecture, builder Chase Beninga of Shaw Construction and Stephanie Hill, Designer at WRJ Design.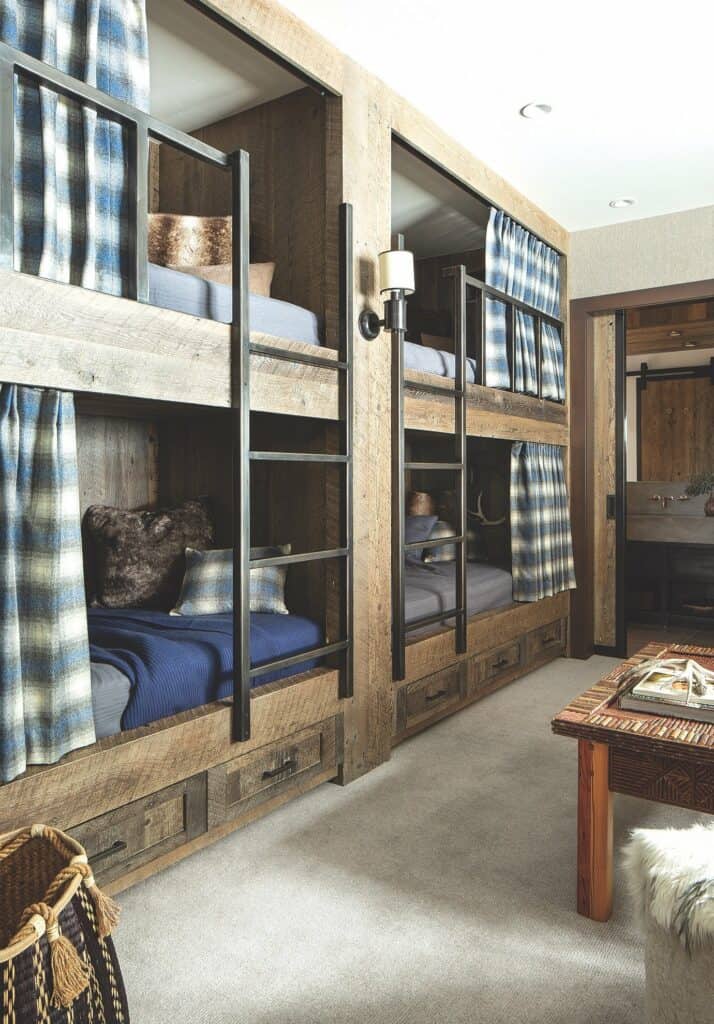 Dingy laundry and mechanical rooms were transformed into an airy bunk room and en suite bath, featuring a custom concrete vanity and rustic barn doors.
"What could have been a $500 purchase certainly turned into a bit more than that!

—Interior Designer Rush Jenkins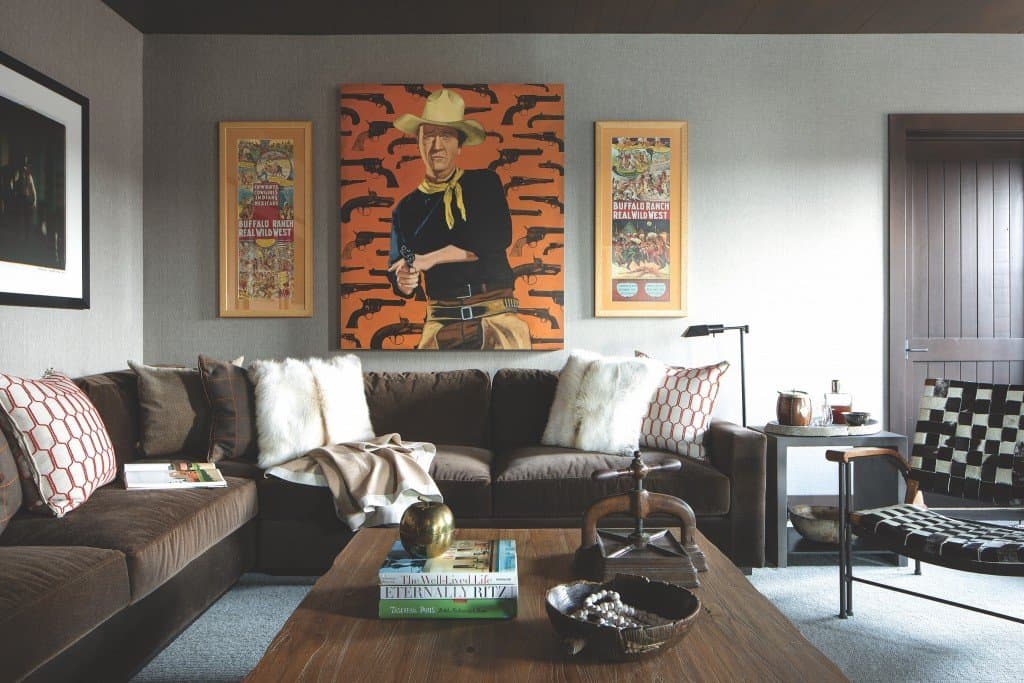 The newly expanded den boasts walls covered in a Phillip Jeffries linen and a mix of artwork old and newly sourced by Jenkins, including photographs from Heather James.
From the start, the teamwork made the dream (house) work. "I think the biggest change that the design team came up with was changing the circulation of the kitchen—it really helped the home a lot," says Beninga. "Other remodeled homes in the community don't have anything like this."
It's hard to pry the grandchildren from their reclaimed wood-adorned nooks in the brand-new bunkroom.
Once the new floor plan was put into place, Jenkins got to work removing all traces of the orangey yellow that permeated the room. "The cabinetry was all in the yellow pine that was popular in the 1990s and 2000s. It had to go," he says. He worked with Schreibeis Smith to lighten up the space with white Shaker-style cabinets, re-claimed wood, polished Quartzite Taj Mahal, a custom steel range hood and glazed linear tile that was installed all the way up to the hood. "I don't love tile that stops halfway. It just looks like you ran out of money," says Jenkins.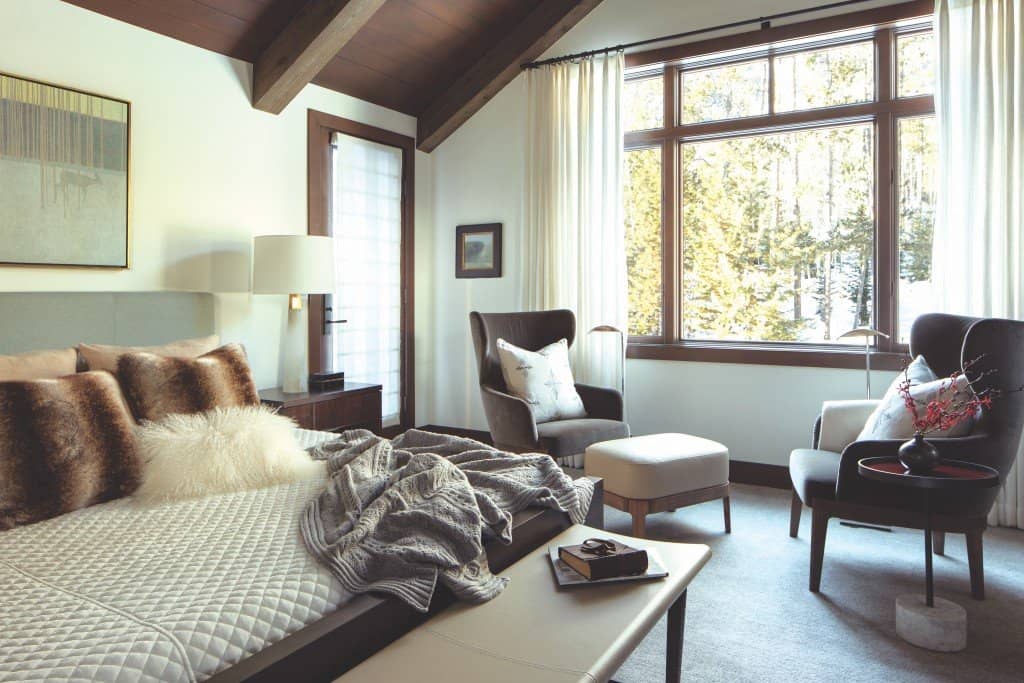 The main bedroom's dreamy palette—a mix of soft blues, browns, grays and creams—was taken directly from the outdoors. "There's a very cozy mountain feel to the space," Jenkins says. "Artwork, throw and pillows add depth and color."
The kitchen was just the beginning. An open flex space and mechanical room became a bunkroom that sleeps five, along with an en suite bathroom. Schreibeis Smith and Jenkins decided to borrow space from a much-too-large primary bedroom closet to add square footage to a previously pinched upstairs living area.
The architect also brought in an abundance of natural light throughout the home with more windows and custom sliding doors with a mix of transparent and translucent panes. She even transformed the garage. "We were able to increase the functionality and storage by increasing organization and using underutilized space to build out a mudroom and laundry room," Schreibeis Smith says.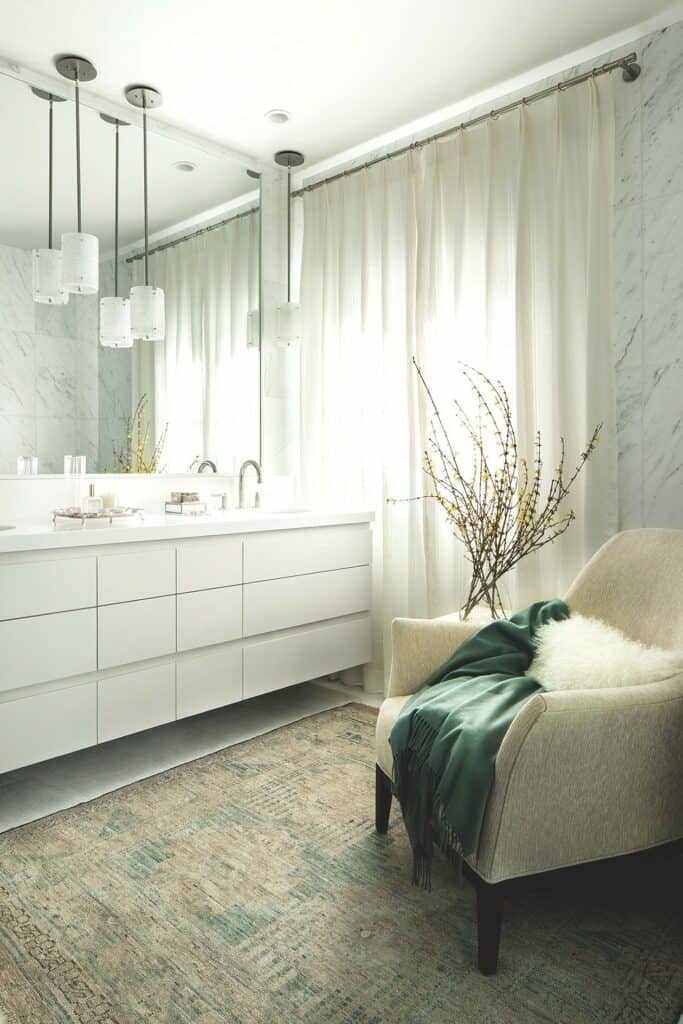 The vanity area is illuminated by Hammerton pendant lighting and Carrara marble on the walls. "We went through four different batches, trying to find consistency," Jenkins says. "We wanted this room to have some quietness, and all the glass and marble make that possible."
While the construction was considerable, the new interiors are no less dramatic. Jenkins replaced around 90 percent of the furnishings ("I'm pretty straightforward—I'll tell a client, 'That doesn't work,'" he says), featuring a nature-inspired palette and plentiful texture. "The living room has super comfortable sofas, upholstered chairs with leather straps, and drapes that you want to touch—there's nothing better than the feel of cashmere," he says. "They say the kitchen is the heart of the house, but if you're not living in your living room, we haven't done our job."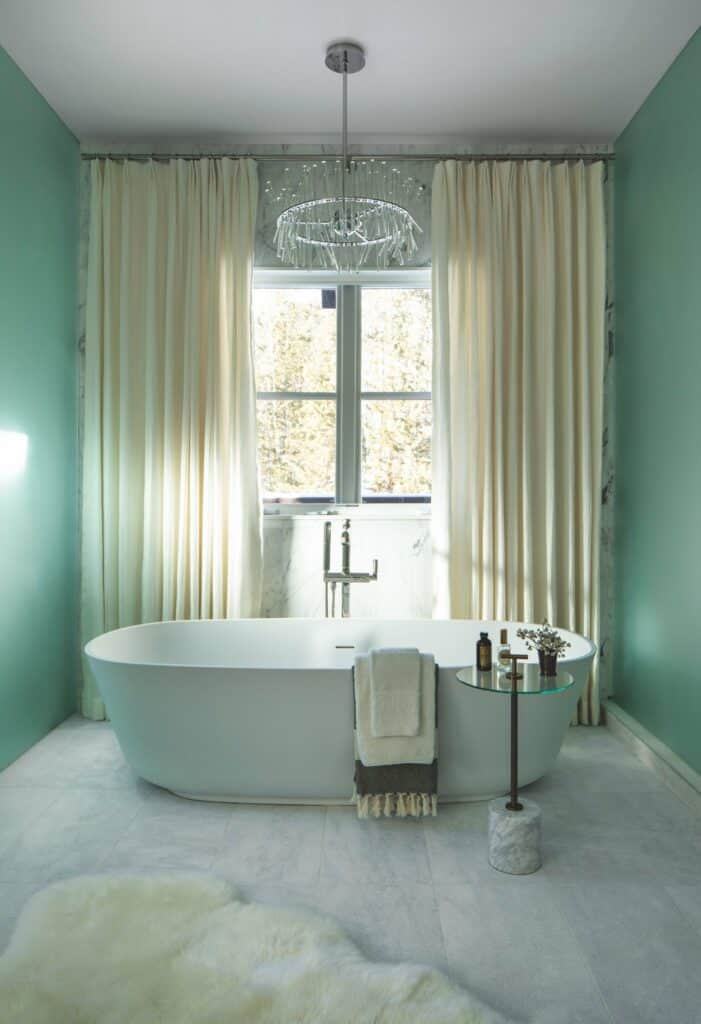 In the spa-like master bath, the soaker tub is surrounded by calming elements including marble flooring, glass walls and drapes in a creamy Loro Piana fabric.
Once everything from artwork to cutlery was in place, it was time for the big reveal. The homeowners flew in from Chicago and were met with Champagne, candles, flowers, music and, yes, a brand-new home. "When we opened the door, it's like theater. It was really emotional," Jenkins says. "It's pretty wonderful to exceed someone's expectations and experience that together. It's like Christmas."
Interior designer Rush Jenkins shares some of his rules for renovation:
COME WITH A DREAM (BOARD) We ask clients to bring imagery from Instagram, Pinterest and magazines so we can discover what they're drawn to. Once we understand what resonates with them, we can start going down the path of figuring out design concepts. JUST DO IT Initially, the homeowners were reluctant to take on the guest bedrooms and baths, but it's never my recommendation to do a renovation piecemeal. Once you've refreshed one room, everything else looks dated. Just dive in and do it all at once. CONSERVE YOUR COLOR SPLASHES Rather than going too big with color, I like to bring in pops of it with art, pillows and throws. If you go with something tonal for your big pieces, they'll have a longer life. And think about it: Making a pillow change is more economical than bringing in a whole new sofa. DIM ALL THE LIGHTS I'm not a fan of the simple on-off switch with a single brightness setting. I prefer dimmers to create the ideal ambience in every room of the house.
Design Team

ARCHITECTURE Vera Iconica Architecture 
INTERIOR DESIGN WRJ Design 
CONSTRUCTION Shaw Construction
Source
Kostelny, Laura. "A Jackson Home Transformed into a Regal Retreat." Mountain Living, 10 Nov. 2021, https://www.mountainliving.com/a-jackson-home-transformed-into-a-regal-retreat/.