All I want for Christmas is a new Emtek Select Key In Leverset! The new program is perfect for those who wish to create a brand new aesthetic truly unique to them.
Emtek Select Levers
The Emtek Select Levers program offers a new level of customization: choose your textured lever grip, and stem design, and pair it with any of Emtek's available rosette options– in any mix of finishes–for hundreds of unique combinations, made just for you and your home project. EXPLORE MORE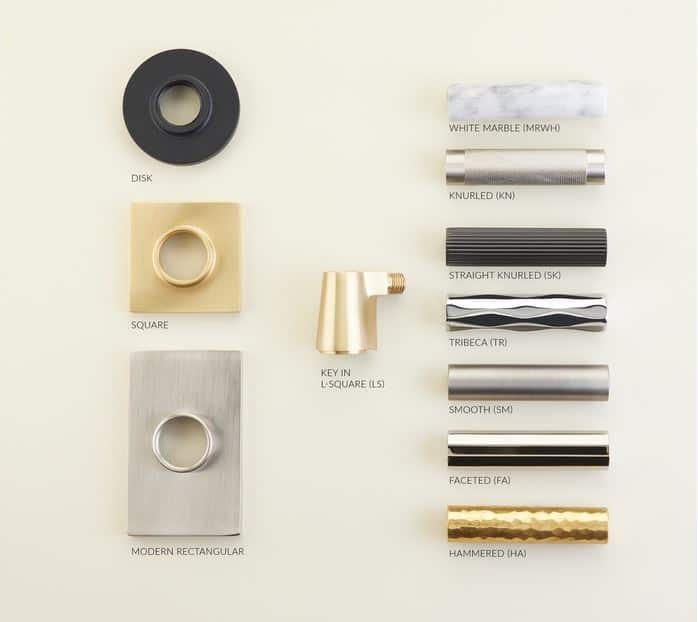 Fully Customizable
Mix-Match Style & Finish for handles, stems, and rosettes:
• 7 handle designs in 7 finishes
• 1 stem design in 7 finishes
• 3 rosette designs in 7 finishes
Finish Colors
The different finish options for the select key in lever handles are listed below
Medium Bronze
Tumbled White Bronze
Polished Nickle
Polished Chrome
Polished Brass
Satin Brass
French Antique
Satin Nickle
Brushed Stainless Steel
Flat Black Bronze
Pewter
Flat Black
Oil Rubbed Bronze
Unlacquered Brass

Emtek is dedicated to helping bring your personal style to life. Door hardware is more than a way to open, close, and secure a space. To Emtek, it is an integral part of a room's design theme. Each order is custom assembled in their Southern California facility. There is no predetermined combination of knobs, levers, rosettes, and finishes; they let you mix and match according to your own taste. Door hardware should make a statement, your statement.