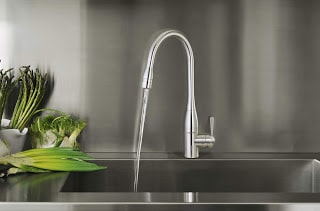 Lenova recently launched the first conventional hot/cold faucet line that is also an ecologically safe way to clean food and any other water-safe surface without using chemicals or chemical residue. The Germ Busting Aqualogic Ozone Faucet is available now.
About Lenova's Aqualogic Ozone Faucet Line
The new product line is available as a standard single hole or pull-out-side spout. The faucets feature a small, thin ozone generator that uses regular house current to economically and naturally produce ozone water. The Aqueous Ozone produced is a powerful, clinically proven, and extensively tested broad-spectrum microbiological agent which kills viruses, bacteria, mold, yeast, and algae within seconds of contact. Aqualogic Faucets are simply as elegant in design as they are extraordinary in function. Visit the website to learn more.
Features
 Ozone Swan Neck kitchen faucet.
 Ozone Faucet delivers point of use Ozone water to destroy bacteria and pesticides.
 Elegant timeless style and design
 Top-quality durable brass construction.
 Spout features patented Ozone Mixing Chamber.
 Ozone generator is good for 20,000 hours.
 Limited lifetime warranty against manufacturer defects and craftsmanship.
 100% satisfaction guaranteed.
About Excel Marketing
Excel Marketing promotes high-end product lines such as Lenova. We work with designers, architects, homeowners and shop owners to bring select wares to market. If you would like to learn more, reach out to Excel Marketing today. Contact us.
Sources:
Decorative Plumbing & Hardware Association (DPHA) recently featured Lenova's Aqualogic faucet http://ow.ly/pwhD50zQdrJ